Turkey Cutlet
| | |
| --- | --- |
| Recipe Type: | Non Veg. |
| Difficulty: | Average |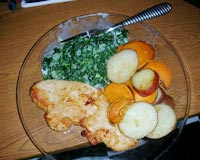 Ingredients:
1-1/2 lb Turkey cutlets
1/3 Cup dry white wine
6 Medium tomatoes
2 Green onions
2 tbsp Fresh basil
1 tbsp Olive oil
1 tsp Cornstarch
1 tsp Sugar
Water as required
Salt to taste
Cooking Instructions:
Add wine and turkey in a 13x9 dish.
Turn to coat with wine, keep aside.
Dice 4 tomatoes.
Slice the remaining tomatoes and thinly slice green onions also.
Remove the turkey, mix water with wine to make 1/3 cup.
In hot oil cook cutlets on both sides till brown.
Remove the cutlets and keep warm.
Reduce the flame to medium and add tomatoes, basil, green onion, sugar and salt to taste. Take a cup and mix cornstarch with wine.
Combine this with tomato mixture.
Cook it till thickens, add sliced tomatoes and heat.
Now serve over cutlets.