Mallige Idli
| | |
| --- | --- |
| Recipe Type: | Veg. |
| Difficulty: | Easy |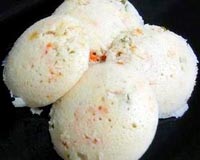 Ingredients:
3 Cups of idli rice
1-1/2 Cups urad dal
1 Handful of cooked white rice
1 Handful Poha or puffed rice
1 Cup curd
Salt to taste
Cooking Instructions:
Soak idli rice and urad dal separately for about 4 hours in hot water.
Grind urad dal into a very soft batter along with little water,set aside.
Now grind idli rice also into not very soft paste along with cooked rice, poha and sour curd.
Combine urad dal paste with idli rice mixture.
Add salt to taste,mix well.
Place it in a hot place overnight for 10 to 12 hours for fermentation.
Now pour batter into idli stand and steam cook for about 15 to 20 minutes until done.
Let the idlis cool for few minutes before taking them out.
Mallige Idli is ready to serve.