Turkey Sausage
| | |
| --- | --- |
| Recipe Type: | Non Veg. |
| Difficulty: | Easy |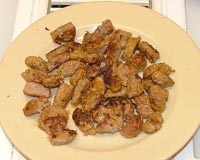 Ingredients:
2 Pounds ground turkey
1 tbsp Cilantro, chopped
1 tsp Paprika
1/2 tsp Salt
1/4 tsp Thyme leaves, dried
1/4 tsp Savory, dried
1/4 tsp Black pepper
1/4 tsp Marjoram
1/8 tsp Fennel seeds
1 Clove garlic, minced
Cooking Instructions:
In a big mixing bowl, combine all the ingredients, mix well.
Form 1-inch meatballs by rolling this mixture in your hands.
Now flatten the meatballs with the palm of your hand to make the sausage patties.
Put the patties in a nonstick skillet.
Cook over medium heat till brown on the bottom.
Turn the sausage patties with a metal spatula and cook thoroughly.
Remove them from the fire and drain on paper towels.
Turkey Sausage is ready to serve.