Turkey Wings
| | |
| --- | --- |
| Recipe Type: | Non Veg. |
| Difficulty: | Easy |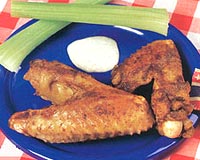 Ingredients:
6 Turkey wings
1 Small chopped onion
4 Cup water
Salt to taste
1/2 tsp Black pepper
Cooking Instructions:
Cut the turkey wings into halves.
Put the turkey wings in a small roast pan with other ingredients.
Now cover it with foil and bake till tender or cook in a pressure cooker for about 15 minutes, leave in the pressure cooker till the pressure goes down.