Port Wine Jelly
| | |
| --- | --- |
| Recipe Type: | Non Veg. |
| Difficulty: | Easy |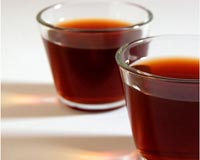 Ingredients:
2 cups Water
1 cup Caster Sugar
2 tbsp Redcurrant Jelly
Stick of Cinnamon
2 Lemons
1 tbsp Gelatin
2 cups Claret
1� cups Ruby Port
Single cream to serve (optional)
Cooking Instructions:
Extract juice from the lemons and mix it with water, sugar, redcurrant jelly, and cinnamon stick.
Bring it to a boil.
Dissolve gelatin in a little of the claret.
Add this to the mixture and stir gently.
Take off the heat.
Then stir in the rest of the claret and the port.
Let the mixture cool until lukewarm, the strain it into small glasses to set and chill until required.
Garnish with a spoonful of single cream on the top and serve.