Roti Canai
| | |
| --- | --- |
| Recipe Type: | Veg. |
| Difficulty: | Easy |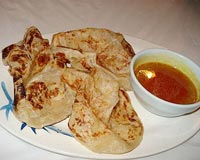 Ingredients:
10 oz Plain flour
1/2 Cup water
1/2 Cup ghee
Salt to taste
Cooking Instructions:
Sieve flour and salt into a bowl.
Add ghee and water and knead till the dough smooth.
Let the dough rest for about 2 to 3 hours to soften.
Make small balls from the dough, oil the work top with ghee and work each ball into a very thin sheet.
First flatten with oiled palms, now thin it again by pulling the edges.
Sprinkle the dough sheet with 1 tsp ghee and fold in edges, shape it into a square.
Now sprinkle a little flour and roll out slightly.
Preheat the griddle or pan, grease it well with ghee.
When hot, put roti on, cook for about 2 to3 minutes until golden brown.
Lift roti with a spatula, grease the griddle with ghee, and cook the other side.
Roti Canai is ready to serve.