Indian Mee Goreng
| | |
| --- | --- |
| Recipe Type: | Non Veg. |
| Difficulty: | Average |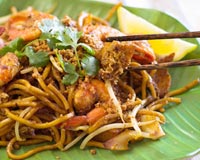 Ingredients:
1/2 lb Boneless mutton
1 lb Yellow egg or chow mein noodles
1/2 Cup ghee or vegetable oil
1 Yellow onion, thinly sliced
Black pepper to taste
A pinch of sugar
3 Cups bean sprouts
2 Potatoes, peeled, boiled, halved, cut into small thick slices and tossed in 1/2 tsp chili powder and 1/2 tsp turmeric powder
1/2 tsp Light soy sauce
1-1/2 tsp Dark soy sauce
1 Fried bean curd cake, sliced
2 Cups lettuce, chopped for garnish
2-3 Red serrano chilies, sliced for garnish
3-4 Limau kasturi or kalamansi lime, cut into halves
2 Eggs, lightly beaten
Juice of 3 to 4 limau kasturi or 1 kaffir lime
10 Shallots, thinly sliced, fried golden brown for garnish

Seasoning Sauce Ingredients:
1 tbsp Soy sauce
3 tbsp Tomato ketchup
1 tsp Turmeric powder
2 tsp Or to taste, chili powder
Cooking Instructions:
Slice mutton and marinate for about 20 minutes with light soy sauce, dark soy sauce, black pepper and sugar.
Heat wok, preferably a cast iron wok to smoking hot and add ghee or oil.
Combine onions with it, stir-fry for a few seconds.
Add marinated mutton and stir-fry briefly remove mutton, keep aside.
Combine turmeric powder, chili powder, tomato ketchup and soy sauce with 1 tbsp water, mix well.
Add this to wok, bring to a boil.
Add noodles and stir-fry thoroughly to coat noodles with sauce.
Mix bean sprouts, salt, potatoes and fried bead curd with it
Push mee or noodles to sides of the wok and add a little oil, pour in the beaten eggs.
Now cover with mee and leave it to set for about 1 minute.
Add lime juice and stir-fry noodles till dry and slightly charred.
Garnish it with the cooked mutton or lamb slices, a limau kasturi half, sliced fresh red chilies, fried shallots, chopped lettuce, or a wedge of kaffir or key lime.