Lamb Cashew Korma
| | |
| --- | --- |
| Recipe Type: | Non Veg. |
| Difficulty: | Average |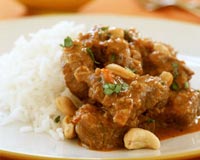 Ingredients:
1-1/2 lb Lamb or mutton, cut into 2 inch cubes
3 tbsp Ghee
1-2 tbsp Chili powder
1/2 tsp Saffron
2 Onions, thinly sliced
1 Cinnamon stick, about 4 inch
1 Cup plain yoghurt
2 Tomatoes, quartered
1/2 Cup of cashew nuts, unsalted
4 Cloves garlic
1 Inch ginger, sliced
2 tbsp Fresh cilantro for garnish, finely
4 tbsp Malaysian meat curry powder
Salt to taste
Cooking Instructions:
Grind cashew nuts, garlic and ginger into a paste with the help of mortar, pestle or blender.
Soak saffron threads in 1/4cup boiling hot water for about 10 minutes, strain, keep aside.
Take a wok or pot and heat ghee.
Combine meat with it, brown well to seal in the juices, keep aside.
In the same wok, add a little more ghee, if required.
Add sliced onions and cinnamon stick, cook till onions turn translucent.
Add meat curry powder, ground paste, and chili powder, stir-fry till quite toasted and oil starts to ooze from paste.
Add meat and season with salt, stir fine to coat equally.
Add the saffron water and additional water.
Bring it to a boil, decrease the heat to medium-low.
Cover and simmer for about 45 minutes, stir occasionally, add a little water if it starts to dry up too rapidly.
Add tomatoes and yoghurt, when the meat is almost cooked.
Cover, and simmer on low flame till the meat is very tender.
Lamb Cashew Kurma is ready.