Dry Masala Crabs
| | |
| --- | --- |
| Recipe Type: | Non Veg. |
| Difficulty: | Average |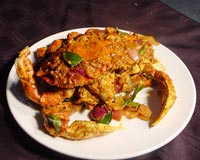 Ingredients:
1 kg Blue flower crabs
1 tbsp Turmeric powder
1 Cup corn flour or tapioca flour
3-4 cm Piece ginger, pounded
10 Shallots
5 Cloves garlic
4 Candlenuts
2 cm Piece belacan or 1 tsp belacan powder
2 cm Piece cinnamon stick
5 Cloves
3 Cardamom pods remove the husks and use only the tiny seeds inside
1 Pandan leaf, knotted
2 Stalks lemon grass, bruised
10 Curry leaves
1 tsp Ground fennel
3 tbsp Chillie paste
1 tsp Ground cumin
1/2 Cup UHT milk
1 tbsp Sugar
1/2 tsp Salt
1 tsp Black pepper powder
Oil as required
Cooking Instructions:
Wash the crabs, pry the shells open and dig out spongy appendages.
Trim the legs and cut each crab into two parts.
Season crabs with ginger, turmeric powder and flour for about 15 minutes.
Coat crab pieces with corn flour and deep fry in hot oil till just cooked for about 2 to 3 minutes.
Dish out and leave them on absorbent kitchen paper.
Make a fine paste of ground fennel, ground cumin, chillie paste and milk.
Grind shallots, garlic, belacan and candlenuts.
Heat wok with 2 to 3 tablespoon oil and fry this ground mixture till fragrant.
Add cinnamon stick, cloves, cardamom pods, curry leaves, pandan leaf and lemon grass.
Fry for about 2 minutes on low heat.
Combine the fennel paste with it and stir-fry well till aroma rises.
Add the rest of the milk and simmer for about1 to 2 minutes.
Add salt, sugar and black pepper powder, and mix well.
Now Put in crabs and stir rapidly.
Remove it from the heat, when crabs are cooked and gravy is thick.