Turkey Drumsticks
| | |
| --- | --- |
| Recipe Type: | Non Veg. |
| Difficulty: | Average |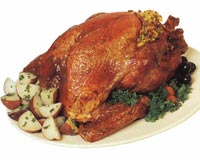 Ingredients:
6 Turkey drumsticks
3 tsp Ground cumin
2 tbsp Chili powder
1 tsp Pepper
1 tbsp Lime zest
2 tsp Salt
1 Cup bottled barbecue sauce
Cooking Instructions:
In a small bowl, mix together chili powder, cumin, salt and pepper.
Sprinkle mixture over the drumsticks and rub it into the drumsticks.
Put the turkey drumsticks in a big roasting pan.
Cover and roast at 350 degrees F for about 50 minutes to 2 hours or till done.
Combine together the barbecue sauce and lime.
Brush turkey drumsticks with this mixture and continue baking for about 15 to 20 minutes, uncovered, or till heated through.