Turkey Sandwich
| | |
| --- | --- |
| Recipe Type: | Non Veg. |
| Difficulty: | Easy |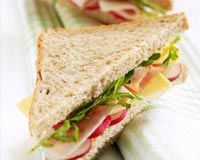 Ingredients:
3 Slices smoked turkey breast
2 Slices whole wheat bread, toasted
1 tbsp Mayonnaise
2 Slices tomato
2 tbsp Guacamole
2 tsp Dijon-style prepared mustard
1/2 Cup mixed salad greens
1/4 Avocado - peeled, pitted and sliced
1/4 Cup bean sprouts
3 Ounces Colby-Monterey Jack cheese, sliced
Cooking Instructions:
Spread the mayonnaise on one slice of toast and spread mustard on the other.
Place the sliced turkey on one side.
Now spread the guacamole over the turkey.
Pile on the salad greens, bean sprouts, avocado and cheese and end with the tomato slices.
Now place the remaining slice of toast on the top.