Chicken Hyderabadi
| | |
| --- | --- |
| Recipe Type: | Non Veg. |
| Difficulty: | Average |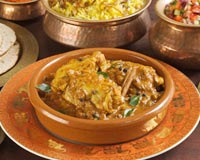 Ingredients:
1200 gm Chicken
4-1/2 tbsp Ginger-garlic paste
3/4 Cup tomato ketchup
1 tsp Red chili powder
4-1/2 tsp Hot sauce
1 tsp Vinegar
1/2 tsp Saffron
4 tsp Plain yogurt
3-1/2 Lemons, juice of, freshly squeezed
3 Green chilies
10-15 Curry leaves
Salt to taste
Few coriander leaves
Water as required
Cooking Instructions:
Wash and cut the chicken into pieces and keep them in an open vessel.
Apply ginger-garlic paste on it and toss to coat it with the paste.
Combine salt, lime juice, hot sauce, tomato ketchup with it, mix well.
Add chilli powder, yogurt, saffron and vinegar to it.
Heat oil in a skillet and fry curry leaves and green chillies, set aside.
Add chicken and water and cook it, uncovered on high heat for about 10 minutes.
Now reduce the heat and cover it.
Cook it until the gravy reduces and oil starts leaving the sides of the skillet.
Remove it from the heat.
Garnish it with fried curry leaves, green chillies and coriander leaves.