Leftover Turkey Soup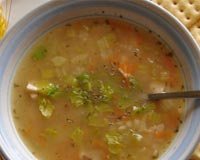 Ingredients:
2 Cups leftover turkey, cut
1 Can chicken broth
2 Celery stalks, chopped
3 tbsp Fresh parsley, finely chopped
1/2 Onion, chopped
3 -1/2 Cups water
Salt and pepper, to taste
Cooking Instructions:
Take a large pot and add water and chicken broth to it.
Bring it to a boil.
Add turkey, onion, celery, and parsley, boil it.
Now reduce the heat.
Simmer for about 10 minutes.
Add pepper and salt to taste.