Turkey Scallopini
| | |
| --- | --- |
| Recipe Type: | Non Veg. |
| Difficulty: | Average |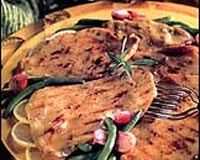 Ingredients:
1 lb Turkey breast, sliced
4 tbsp White wine
1/2 Cup dry breadcrumbs
1 tbsp All-purpose flour
1 Egg
1/2 tsp Paprika
2 tbsp Parsley, chopped
2 tbsp Olive oil
1 Avocado, sliced
8 Slices cheddar cheese, thin
8 Slices tomatoes
4 Sprigs parsley
1 tbsp Water
1 tsp Salt
Cooking Instructions:
Pound the turkey slices between two sheets of waxed paper till thin.
Soak it in the wine and place it into the refrigerator for about 30 minutes to one hour.
Beat the egg slightly with water.
Combine bread crumbs, flour, salt, paprika and parsley in a bowl.
Dip the turkey slices into egg and then coat it with bread crumb mixture.
Freeze it for about 1 hour.
Heat oil in a large skillet and fry turkey about 3 minutes on each side, till golden brown.
Set tomato and avocado on each turkey scallopini and top it with cheese.
Place under boiler till cheese melts.
Garnish it with fresh parsley and serve.