Thanksgiving Turkey Marinade
| | |
| --- | --- |
| Recipe Type: | Non Veg. |
| Difficulty: | Average |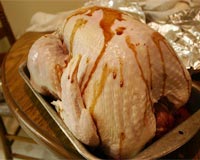 Ingredients:
12 to 14 Pound turkey
1/2 Cups chicken broth
2/3 Cup lemon juice
1 Cups soy sauce
2 Garlic cloves
1-1/2 tsp Ground ginger
2 Cups water
1 tsp Pepper
Salt to taste
Cooking Instructions:
Combine all the ingredients,mix well.
Pour the marinade into a 2 gallon resealable plastic bag, reserve 1 cup for basting.
Add turkey and close the bag, turn it to coat.
Place it into the Refrigeratoor overnight, turning several times.
Drain and discard the marinade.
Heat grill according to the manufacturer's instructions.
Put the wings under the turkey and place with breast side down on the grill rack.
Cover and grill it for about 1 hour.
Now add 10 briquettes to coals and turn the turkey breast side up.
Brush the turkey with reserved marinade, cover and cook for about 2 hours, adding 10 briquettes to maintain the heat.
Brushing the turkey with marinade every 30 minutes till meat thermometer reads 185° F.
Cover and let stand for about 20 minutes before carving.