Citrus Roasted Turkey
| | |
| --- | --- |
| Recipe Type: | Non Veg. |
| Difficulty: | Average |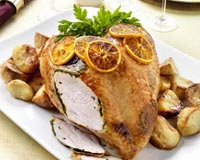 Ingredients:
6-8 Pound whole turkey, washed and drained
1/4 Cup fresh lemon juice
1/4 Cup honey
1/4 Cup frozen lemon juice concentrate, thawed
3 tbsp Fresh chopped mint leaves
3 tbsp Fresh lime juice
1/3 Cup orange juice
1 tbsp Grated orange peel
2 tsp Grated lemon peel
1/4 tsp Cinnamon
1/4 tsp Cumin
1 Red onion, sliced
Dash salt and pepper to taste
1/4 Cup olive oil
Cooking Instructions:
Preheat the oven to 325 degrees F.
Take a large bowl and combine all juices, honey, oil, mint, citrus peels, salt, pepper, herbs and spices, mix well
Add turkey to it, turning a few times to cover with marinade.
Top turkey with sliced onions and cover the bowl with foil.
Place it into the refrigerator for about 3 to 8 hours.
Now remove turkey from the marinade and discard onions.
Pour marinade into a saucepan and bring it to a boil, boil for about 5 minutes, keep aside.
Put the turkey, breast side up, on a rack in a big shallow roasting pan.
Insert oven-safe meat thermometer into the thickest part of the thigh, carefully so the pointed end does not touch the bone.
Roast turkey in the preheated oven for about 3 hours.
Baste the turkey frequently with the marinade as it cooks.
If required, loosely cover it with lightweight foil to prevent excessive browning.
Roast it till the thermometer registers 170 degrees F in the breast or 180 degrees F in the thigh.
Take out the turkey from the oven and allow it to rest for about 15-20 minutes before carving.