Croissant
| | |
| --- | --- |
| Recipe Type: | Non Veg. |
| Difficulty: | Average |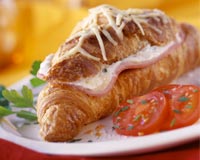 Ingredients:
1 kg Strong white flour
570 ml Water and milk mixed
450 gm Unsalted butter
2 Sachets easy bake yeast
1 Egg for egg wash
Pinch of salt
Sugar to taste
Cooking Instructions:
Preheat the oven to 400 degrees F.
Cut butter into small pieces.
Take a bowl and combine flour, salt, sugar, yeast, butter, water and milk.
Knead it to make cohesive dough.
Shape the mixture into a rectangle and roll out to about 30cmx20cm.
Fold over the top third, fold up the bottom third and close each side with the side of your hand.
Place it into the plastic bag and chill for about 30 minutes.
Now turn 90 degrees and roll it again to another rectangle.
Fold up bottom third and close it with the side of your hand.
Chill it again for 30 minutes.
Repeat two more times, chilling for about 30 minutes between each rolling.
Return it to the plastic bag and place it into the refrigerator for about an hour.
Remove it from the fridge and roll into a big rectangle 50cmx30cm.
Cut in half lengthwise and divide into triangles and shape into crescent.
Beat egg and carefully, egg wash croisant.
Place them on a baking sheet and allow it to rise for about 20 minutes.
Now bake it for about 20 minutes till golden brown.