Maharashtrian Fish Gravy
| | |
| --- | --- |
| Recipe Type: | Non Veg. |
| Difficulty: | Easy |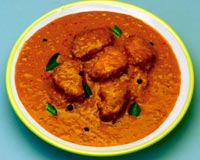 Ingredients:
500 gm Slices of any white fish cleaned
2 tsp Red chilli powder
2 tbsp Tamarind paste
2 tsp Garlic paste
1 tsp Coriander powder
1/2 tsp Turmeric powder
1/2 tsp Asafoetida powder
1 Green chilli, slit
2 Flakes garlic crushed
1 tbsp Oil
1/2 Cup coconut milk
Water as required
Salt to taste
Cooking Instructions:
Wash the fish slices properly.
Marinate them in a mixture of red chilli powder, tamarind paste, garlic paste, turmeric powder, coriander powder and salt for 15 minutes.
Take a heavy-bottomed pan and heat the oil in it.
Add the crushed garlic, asafoetida and green chilli to it.
Add the marinated fish and some water.
Cover and cook for 20 minutes until the fish is almost cooked.
Slowly stir in the coconut milk and bring it to a boil on low heat.
Cover and cook over low heat for about 4 minutes until the fish is well-cooked but firm.