Italian Pizza
| | |
| --- | --- |
| Recipe Type: | Non Veg. |
| Difficulty: | Easy |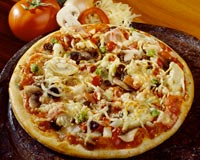 Ingredients:
1 Loaf of crusty Italian bread
2 Cup Italian plum tomatoes, drained well and chopped
1/2 Cup tomato sauce
1/2 tsp Sweet basil
1/4 lb Swiss cheese, cubed
1/4 lb Italian sausage or salami, cubed
1/4 lb Mozzarella cheese, cubed
1/2 Clove garlic, crushed
1/2 tsp Oregano
1/4 Romano cheese, coarsely grated
Olive oil as required
Salt and pepper to taste
Cooking Instructions:
Cut off the top of the bread and hollow out.
Brush inside and outside with a little warm oil.
Keep it in a hot oven for about 5 to 10 minutes till the inside is dry.
Combine tomato sauce with chopped tomatoes, cubed Mozzarella, basil, Swiss cheese and the cubed sausage or salami, mix well.
Stuff the toasted loaf with the mixture.
Sprinkle with pepper, salt, garlic, oregano and grated cheese.
Place the pizza on a cookie sheet and bake at 400 degrees F for about 15 minutes till the loaf is golden brown and the filling is piping hot.
Cut the pizza into thick slices and serve.