Super Moist Roast Turkey
| | |
| --- | --- |
| Recipe Type: | Non Veg. |
| Difficulty: | Average |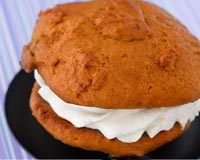 Ingredients:
12 lb Turkey
1/4 Cup onions, finely chopped
1/4 Cup turnip, finely chopped
1/4 Cup carrots, finely chopped
3 Cloves garlic, thinly sliced
1/4 Cup celery, finely chopped
1/2 tsp Salt
1/2 tsp Pepper
Cooking Instructions:
Preheat the oven to 325 degrees F.
Sprinkle the turkey inside and outside with salt and pepper.
Put wings under the turkey and place the turkey in an oven roasting bag.
Spread onions, celery, turnip, carrots and garlic over and around the turkey.
Fold the top of the bag over and keep the turkey breast up, in a small roasting pan.
Now add water to a depth of about 1 inch.
Roast turkey for about 3 -1/2 hours till a meat thermometer inserted in the thickest part of the leg , reaches 165 degrees F to 170 degrees F.
Carefully tear open and take out the bag.
Raise the oven temperature to 450 degrees F.
Roast 30 minutes longer till the thermometer registers 180 degrees F, basting with the pan juices every 5 minutes till golden brown.
Remove the roasting pan from the oven and carefully shift the turkey to a serving dish.
Letting the juices run back into the pan and reserve the juices for gravy.
Cover the bird with foil and let stand for about 20 minutes before carving.