Pineapple Roast Turkey
| | |
| --- | --- |
| Recipe Type: | Non Veg. |
| Difficulty: | Average |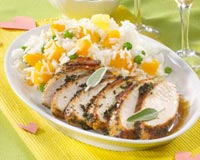 Ingredients:
8 to 12 Pound turkey
1 Cup dry white wine
1 Fresh pineapple
1 tsp Paprika
1/4 Cup soy sauce
1 tsp Ground ginger
1/4 Cup honey
1 tbsp Cornstarch
2 Large cloves garlic, finely chopped
Water as required
Salt as needed
Vegetable oil as required
Cooking Instructions:
Clean the turkey and pat dry.
Massage cavity lightly with the salt.
Fasten the neck skin to back and skewer and fold wings across back with tips touching.
Place the drumsticks under the band of skin at tail or bind together with heavy string, then tie it to the tail.
Put the turkey breast side up on the rack in an open shallow roasting pan.
Brush it with the vegetable oil.
Place in the meat thermometer so tip is in the thickest part of the inside thigh muscle or thickest part of breast meat and does not touch bone.
Roast the turkey uncovered at 325 degrees F for about 3 hours.
Peel the pineapple and cut it lengthwise into halves.
Remove the core and cut each half diagonally into 8 slices.
Combine wine, honey, soy, ginger, paprika and garlic, mix well.
Arrange the pineapple on rack around the turkey.
Brush the turkey and pineapple with wine mixture.
Keep on roasting uncovered, brushing turkey and pineapple frequently with wine mixture, till the thermometer registers 185 degrees F for about 1 hour longer or move drumstick up and down.
Take out the turkey and pineapple, keep warm.
Pour drippings into 2 cup measuring cup and skim off any excess fat, add sufficient water to drippings to measure 2 cups.
Pour it in a saucepan and bring it to a boil.
Combine cornstarch and cold water to it.
Boil and stir for about 1 minute and serve with turkey.