Caramel Pudding
| | |
| --- | --- |
| Recipe Type: | Non Veg. |
| Difficulty: | Easy |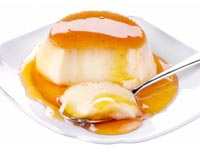 Ingredients:
4 Cups milk
1 Cup brown sugar
1/4 Cup butter
4 Egg whites
4 Egg yolks
1 Cup granulated sugar
1/4 Cup cornstarch
Cooking Instructions:
Bring brown sugar and milk to a boil, keep stirring.
Beat yolks and cornstarch together in a big bowl and add butter to it.
Add it to the first mixture and cook, keep stirring till thick.
Pour it into the greased baking pan and bake at 350 degrees F, till brown.
Beat egg whites with sugar and brush on top.
Now return to the oven and brown top.