Vegetable Pasta Sauce
| | |
| --- | --- |
| Recipe Type: | Veg. |
| Difficulty: | Easy |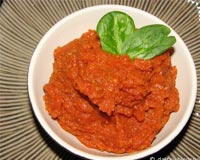 Ingredients:
1 Can chickpeas drained and rinsed
1/2 Pound mushrooms, washed and sliced
2 Cans Italian plum tomatoes
1 Large yellow onion
1 Cup red wine dry
4 Cloves garlic, minced
1 tbsp Tomato paste
1 Large zucchini scrubbed and chopped
1 Carrot, grated
1/4 Cup fresh basil, minced
1/2 Cup parsley leaves fresh, chopped
1/4 Cup fresh oregano, minced
1 tsp Black pepper
1/4 tsp Red chili peppers hot, crushed
1 tsp Olive oil
Salt to taste
Cooking Instructions:
Take a big pot and heat olive oil in it.
Fry onion and garlic for about 10 minutes.
Blend the tomatoes and chickpeas through a blender or food processor till they are finely chopped, but not smooth.
Place all the ingredients to the pot, and simmer, uncovered, for about 45 minutes to one hour, stirring occasionally.