Vegetable Stew
| | |
| --- | --- |
| Recipe Type: | Veg. |
| Difficulty: | Easy |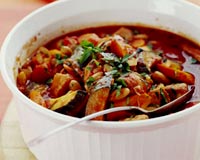 Ingredients:
4 Cups mushrooms, cut into quarters
1 Can tomatoes, coarsely chopped
1 Cup carrots cut into 1 inch thick slices
1 Cup celery, cut into 1 inch thick slices
1-1/2 Cups sliced onions
3 Medium potatoes, unpeeled, cut into 1 inch chunks
2 Garlic cloves, minced
2 Cups cooked kidney beans
1 Can tomato sauce
1 tsp Dried thyme
1 Bay leaf
Salt and pepper to taste
1 tbsp Vegetable oil
1 Cup water
3 tbsp Flour
1/4 Cup water
1/4 Cup red wine
Cooking Instructions:
Take a large saucepan and heat oil in it on medium flame.
Combine onions, garlic, carrots, celery, and mushrooms with it.
Cook for about 10 minutes, keep stirring.
Add little water, if required, to prevent sticking.
Combine rest of the ingredients, except flour, 1/4 cup water, and wine.
Cover, decrease the heat to low, and simmer for about 30 minutes till vegetables are tender, stir occasionally.
Gradually stir flour into 1/4 cup water till smooth, in a small bowl.
Mix it with stew, along with wine.
Cook for about 5 more minutes, keep stirring.