Rice Puttu
| | |
| --- | --- |
| Recipe Type: | Veg. |
| Difficulty: | Easy |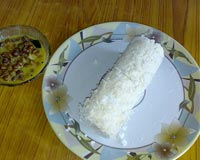 Ingredients:
1/2 kg Rice
Water to sprinkle
1/2 Grated coconut
Salt to taste
Cooking Instructions:
Soak rice in water for about 4 hours, drain and grind it to make powder.
Cook the powder for about 5 minutes, while heating stir it.
Let it cool.
Combine salt with little water and sprinkle this to the powdered rice just to make the powder wet.
Place a handful of grated coconut in the puttukutty (special utensil) and then put rice powder till half, now add another handful of grated coconut.
Close the lid and steam Puttu for about 2 minutes.