Theeyal
| | |
| --- | --- |
| Recipe Type: | Veg. |
| Difficulty: | Easy |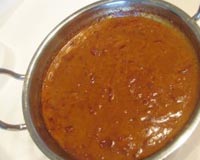 Ingredients:
1/2 Cup grated coconut
1 Cup baby onions
5-6 Curry leaves
2 tbsp Tamarind paste
1/2 tsp Sugar
1/2 tsp Mustard seeds
1 Pinch asafoetida
7 Red chillies
1/4 tsp Cumin seeds
7-8 Black peppercorns
1 tbsp Coriander seeds
Salt to taste
1/4 tsp Turmeric powder
Water as needed
3 tbsp Oil
Cooking Instructions:
Heat 1 tbsp oil in a small pan and fry coconut until light brown.
Add 5 red chillies, coriander seeds, cumin seeds, peppercorns and fry until it produce an aroma.
Combine the turmeric powder with it and stir-fry for about 2-3 seconds.
Let it cool and then grind it to make a coarse powder, set aside.
Heat 2 tbsp oil and add the mustard seeds, curry leaves and rest of the red chillies.
When the seeds start spluttering, add asafoetida and onions to it and cook for about 5 minutes over medium heat.
Combine the ground masala powder with it and cook for few seconds.
Add water, tamarind paste, salt and sugar to it and bring to a boil.
Reduce the heat and Simmer for about 5-7 minutes.
Serve theeyal with steamed rice.