Bhang Lassi
| | |
| --- | --- |
| Recipe Type: | Veg. |
| Difficulty: | Average |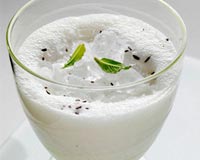 Ingredients:
1/2 Ounce cannabis
2 Cups warm whole milk
1/2 Cup sugar
1 tbsp Coconut milk
1 tbsp Almonds, chopped
1/8 tsp Ginger, powdered
1 Pinch garam masala
1/2 tsp Grenadine
1 Cup water
Cooking Instructions:
Bring water to a boil in a teapot and add cannabis to it.
Brew for about 7 to 10 minutes, then strain.
Gradually grind the strained cannabis along with 2 tbsp of milk, repeat this process several times.
Strain the milk into another bowl and keep aside.
Add a little more milk to the cannabis and grind it along with the almonds, repeat this several times.
Remove the cannabis and pour the milk, coconut milk, grenadine and boiled water into a container.
Combine ginger, sugar, and garam masala with it, keep stirring.
Bhang Lassi is ready to serve.