Cassata
| | |
| --- | --- |
| Recipe Type: | Veg. |
| Difficulty: | Easy |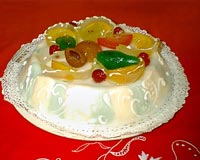 Ingredients:
1 Litre vanilla ice cream
300 ml Cream
1/2 tsp Almond essence
1/2 Cup toasted almonds
50 gm Dark chocolate
2 tbsp Sugar
1/2 Cup glace fruit, chopped
Cooking Instructions:
Soften the ice-cream and combine the almond essence with it.
Line the base and sides of 1 litre pudding basin leaving a cavity in the centre for the fruit mixture.
Freeze till firm.
Whip cream and sugar together till the peaks form.
Now chop chocolate and almonds.
Fold the chopped fruit, chocolate and almonds into the whipped cream.
Fill the cavity of the ice cream with it.
Cover it with foil and freeze till firm.
Just before serving, dip the basin into very hot water, quickly 2 or 3 times then invert and shake sharply onto a serving plate.
Cut Casata into wedges and serve.