Sukiyaki
| | |
| --- | --- |
| Recipe Type: | Non Veg. |
| Difficulty: | Easy |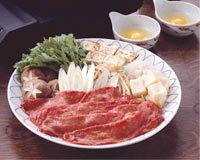 Ingredients:
1 Pound sukiyaki beef strips
1 Can mushrooms
1 Can shirataki
1 Cup bamboo shoots, sliced
1 Bean cake cut into 1-1/2 inch squares
1 Bunch green onion, cut into two inch lengths
3 Stalks celery, cut diagonally
2 Large dry onions, sliced
1/4 Cup sugar
6 Leaves nappa, chopped, not too large and not too small

Sauce:
1 Cup soup stock, chicken stock or bouillon
1/2 Cup soy sauce
1/4 Cup mirin
Cooking Instructions:
Cut vegetables and place on large platter.
Combine all the sauces in a separate bowl, mix well.
Heat electric fry pan, cook the thinly sliced meat till brown, sprinkling with 1/4 cup sugar, move it over to one side.
Place this cooked meat in a skillet, pour sauce over it and add other ingredients.
Cover and bring it to a boil and cook for about 2 minutes.
Suggestions:
Always cook Sukiyaki in an electric fry pan instead of wok, so ingredients stay separated.