Oden
| | |
| --- | --- |
| Recipe Type: | Non Veg. |
| Difficulty: | Easy |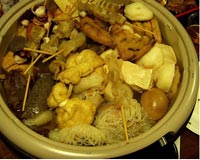 Ingredients:
4 Cups dashi soup stock
1/3 Daikon radish
2 Carrots
4 Boiled eggs
2 Potatoes
1 Blocks of konnyaku
2-4 Fish cakes
2 Blocks of fried tofu
4-5 tbsp Soy sauce
2 tbsp of sake, Japanese rice wine
1 tsp Sugar
Cooking Instructions:
Slice the daikon into thick rounds.
Cut potatoes into half and peel the boiled eggs.
Cut the other ingredients into big pieces.
Place dashi soup stock in a big pot or donabe pot and bring it to a boil.
Add all the ingredients along with sake, soy sauce, and sugar to the pot.
Reduce the heat to low and simmer for about 40 to 60 minutes.