Hickory-Smoked Bourbon Turkey
| | |
| --- | --- |
| Recipe Type: | Non Veg. |
| Difficulty: | Average |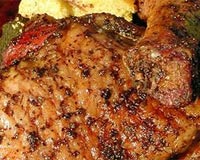 Ingredients:
1 Whole turkey of 11-pound, thawed
1 tbsp Pickling spice
2 Cups maple syrup
1 Cup bourbon
1 Celery rib
1 Large carrot, scraped
1 Medium onion, peeled and halved
Hickory wood chunks
1 Lemon
2 tsp Pepper
1 tbsp Salt
Cooking Instructions:
Remove the giblets and neck from the turkey and reserve it for other uses, if desired.
Rinse the turkey thoroughly with cold running water and pat dry.
Add the water to a big stockpot, filling half full and stir in the maple syrup, pickling spice and bourbon.
Add turkey and additional water to cover, if required.
Cover and chill turkey for 2 days.
Soak hickory wood chunks in fresh water for about 30 minutes.
Prepare charcoal fire in smoker and let fire burn for about 20 to 30 minutes.
Remove the turkey from the water, discard the water mixture and pat dry.
Cut carrot and celery in half diagonally.
Stuff the cavity with carrot, onion and celery.
Pierce the lemon with a fork and put it in the neck cavity.
Combine salt and pepper and massage the mixture over turkey.
Fold the wings under, and tie legs together with twine, if desired.
Drain the wood chunks, place on coals and put water pan in smoker.
Add water to depth of fill line and place turkey in the middle of the lower food rack.
Cover with smoker lid and cook for about 6 hours till a meat thermometer inserted into the thickest portion of turkey thigh registers 180 degrees F.
Add additional water, charcoal, and wood chunks as required.
Remove the turkey from the smoker and let stand for about 15 minutes before slicing.