Gari
| | |
| --- | --- |
| Recipe Type: | Veg. |
| Difficulty: | Easy |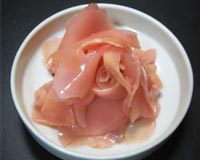 Ingredients:
1/4 lb Gingerroot peeled, very thinly sliced
2 tbsp Sugar
1/2 Cup rice vinegar
1 Drop red food coloring
1/4 tsp Salt
Cooking Instructions:
Bring water to a boil in a saucepan and add ginger to it and simmer for 1 minute, drain.
Put it in a heatproof jar.
Take a small saucepan and bring vinegar sugar, salt and food coloring to a boil.
Pour this mixture over the ginger and marinate for about an hour.