Spaghetti Bolognese
| | |
| --- | --- |
| Recipe Type: | Non Veg. |
| Difficulty: | Average |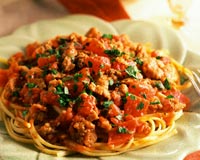 Ingredients:
375 gm Spaghetti
410 gm Tomato
1 tbsp Olive oil
1 Medium brown onion, chopped finely
500 gm Minced beef
1 Clove garlic, crushed
1/2 Cup tomato paste
1/4 Cup beef stock
1/2 tsp Sugar
1/2 Cup dry red wine
2 tsp Fresh oregano
1 tbsp Fresh basil, finely shredded
Cooking Instructions:
Heat oil in a big saucepan and cook onion and garlic in it on medium heat till onion is soft, keep stirring.
Add beef to the pan, stir continuously on high flame till well browned.
Crush the tomatoes using potato masher.
Add tomato paste, wine, stock, sugar and crushed tomatoes and bring it to a boil.
Reduce the heat, covered and simmer for about 30 minutes till beef is tender and mixture thickened slightly.
Now stir through herbs.
Meanwhile, cook pasta in a big saucepan of boiling water, uncovered, till just tender, drain.
Now serve sauce over spaghetti.