Chicken Scaparelli
| | |
| --- | --- |
| Recipe Type: | Non Veg. |
| Difficulty: | Average |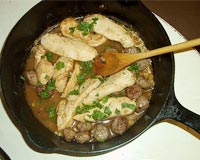 Ingredients:
3 lb Bone-in chicken, cut up
1/2 lb Italian sausage links, cut in 1/2 inches circles
1 Cup dry red wine
1/3 Cup chicken broth
1/3 Cup olive oil
1/4 Cup onion, diced
1/4 Cup celery, diced
2 Cloves of garlic, mashed
2 Large sprigs fresh rosemary
15 Cured black olives
Salt and pepper to taste
Cooking Instructions:
Wash and soak the chicken in water.
Now drain and pat dry it on the paper towels.
Pour the olive oil in a pan and heat on high flame.
Cook the chicken well, add salt and pepper to taste.
Remove it from the fire when it is cooked, set aside.
Repeat the process, cook the cut up sausage pieces.
Remove the sausage from the fire.
Add the onions, celery, garlic, rosemary and olives to pan and fry for about 1 minute.
Increase the heat to high and add chicken broth to the pan.
Add the cooked chicken and sausage and cook uncovered till the liquid in the pan is reduced by half.
Add the red wine, cover pan with tight fitting lid and decrease the heat to low.
Braise for about 45 minutes on low flame, stirring occasionally.
Transfer the chicken, sausage and olives from the pan and place on a warm platter. Return pan to high heat and decrease the sauce by 1/2.
Remove rosemary sprigs from it.
Serve chicken, sausage and olives with the pan sauce.