French Fries
| | |
| --- | --- |
| Recipe Type: | Veg. |
| Difficulty: | Easy |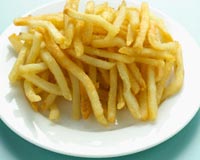 Ingredients:
2-1/2 Pounds russet potatoes, peeled
1 Cup all-purpose flour
1 Cup vegetable oil for frying
1 tsp Paprika
1 tsp Onion salt
1 tsp Salt
1 tsp Garlic salt
Water as needed
Cooking Instructions:
Slice potatoes into strips and place them into cold water, so they won't turn brown while preparing the oil.
Take a big skillet and heat oil on medium-high flame.
Meanwhile, sift the flour, garlic salt, onion salt, salt, and paprika into a big bowl.
Slowly stir in sufficient water so that the mixture can be drizzled from a spoon.
Dip potato slices into the batter one at a time, and place them in the hot oil.
Place one at a time, into the skillet or they will clump together.
Fry till golden brown and crispy.
Remove it from the fire and drain on paper towels.