Shrimp Linguine
| | |
| --- | --- |
| Recipe Type: | Non Veg. |
| Difficulty: | Easy |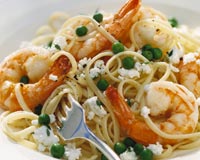 Ingredients:
1 Pound uncooked linguine
1 Pound medium shrimp, peeled and deveined
3 tbsp White wine
2 tsp Parmesan cheese, grated
1 tbsp Butter
1 tsp Fresh parsley, chopped
3 Cloves garlic, minced
Salt and pepper to taste
Cooking Instructions:
Bring a big pot of lightly salted water to a boil.
Add pasta and cook for about 8 to 10 minutes till al dente, drain.
In a saucepan, melt butter on medium low flame.
Add wine, cheese, garlic, parsley, salt and pepper to it.
Simmer on low flame for about 3 to 5 minutes, keep stirring.
Increase the heat to medium high and add shrimp to the skillet, cook for 3 to 4 minutes or till shrimp begin to turn pink, do not overcook.
Divide pasta into portions and spoon sauce on the top.