Chile Relleno
| | |
| --- | --- |
| Recipe Type: | Non Veg. |
| Difficulty: | Average |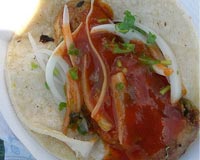 Ingredients:
6-12 large Poblano or Anaheim Chiles
3-6 large Eggs (approx. 1 egg for 2 chiles)
1/4 cup Flour (optional)
Cheese, cut into 1/4 inch thick rectangles as long as the chile
Oil
Pinch of Salt
Paper Towels, for draining
Cooking Instructions:
First you need to roast and peel each chile and let them cool. You can use canned whole green chiles, in case fresh chiles are unavailable.
Remove the seeds with the help of a sharp knife into the top of the chile, just under the stem and slice downward about half way down the chile.
Now using a spoon or a knife and without tearing the chiles flesh, take the seeds and the white membrane out.
Start stuffing the chiles by placing a slice of cheese in it. If the cheese is too large then trim it down until it fits inside. Make sure the open edges of the chile still come together.
Prepare the chiles by placing half of the flour on the bottom of a plate. Place the chiles on the flour and sprinkle the rest of the flour on top.
Make sure the entire chile is coated and dust off remaining flour and set chiles aside. Remember that this is an important step for the batter to stick if you rinsed your chiles in water.
Whip 3-6 egg whites until stiff to prepare the batter. Slowly fold in yolks and add a pinch of salt.
Now, add oil to the frying pan until it reaches about 2 inches from the base.
As the oil gets heated, dip the stuffed chiles into the batter and then into the hot oil, one by one. Keep on cooking until batter is a crisp golden brown.
Finally, drain the chiles on paper towels after removing it from the oil.