Asparagus Risotto
| | |
| --- | --- |
| Recipe Type: | Non Veg. |
| Difficulty: | Average |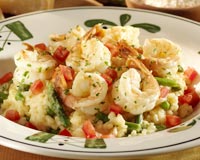 Ingredients:
1 Pound asparagus, trimmed, cut into 2-inch lengths
1/2 Cup dry white wine
1-1/2 Cups arborio rice or medium-grain white rice
6 tbsp Butter
1/2 Cup chopped onion
5 Cups canned low-salt chicken broth
3/4 Cup freshly grated Parmesan cheese
2 tbsp Olive oil
Salt and pepper to taste
Cooking Instructions:
Blanch asparagus pieces in a big pot of boiling salted water for about 2 minutes.
Drain and rinse asparagus under cold water.
Bring chicken broth to simmer in a saucepan, reduce the heat to low and keep the broth hot.
Heat olive oil in a heavy large saucepan on medium flame.
Add chopped onion and fry till translucent, for about 4 minutes.
Combine rice with it and stir for about 3 minutes.
Add dry white wine to it and cook till liquid evaporates.
Continue cooking till rice is tender but still slightly firm in the middle and mixture is creamy.
Add 1 cup chicken broth at a time and stirring continuously, for about 20 minutes.
Add blanched asparagus pieces and stir till heated through for about 2 minutes.
Remove it from the fire.
Add butter to it and stir till incorporated.
Stir in grated Parmesan cheese and season risotto with salt and pepper.