Chicken Risotto
| | |
| --- | --- |
| Recipe Type: | Non Veg. |
| Difficulty: | Average |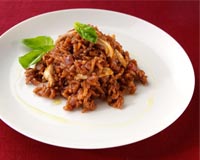 Ingredients:
500 gm Chicken breasts, diced
5 Cups chicken stock, hot
1-3/4 Cups arborio rice
1/3 Cup dry white wine
1-2 tsp Garlic cloves, minced
1 Cup sun-dried tomatoes
150 gm Baby spinach
2 tbsp Parmesan cheese
3/4 Cup kalamata olives, sliced
2 tbsp Olive oil
Cooking Instructions:
Keep the stock to simmer.
Heat oil in a big pan and add chicken, cook till almost cooked through.
Add garlic to it and cook for another 1 to 2 minutes.
Combine the rice with it and stir till grains are coated with oil and glistening.
Add white wine to it and stir till it is absorbed by the rice grains.
Now start adding the hot stock 2 ladles at a time, stirring between additions till the liquid has been absorbed.
After the last addition of stock, add baby spinach leaves to it and stir till wilted.
Add tomatoes and olives, stir till heated through.
Combine Parmesan cheese with it and stir through.