Drunken Turkey
| | |
| --- | --- |
| Recipe Type: | Non Veg. |
| Difficulty: | Average |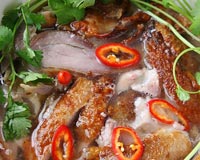 Ingredients:
1, 12 lb Turkey
32 Ounces mixed dried fruit
4 Orange, juiced
4 Granny smith apples
3 Cup grand marnier
3 Cup tequila
1 Cup golden raisins
1 Cup chiles chipotles
2 Sticks unsalted butter, cut into 1-inch wedges
Cooking Instructions:
Preheat oven to 325 degrees F.
Wash turkey and pat dry thoroughly with paper towel then set aside.
Mix dried fruit, raisins, and apples in a medium size bowl.
Put juice and chilies, with sauce that clings to them into a blender or food processor and process for 1 minute.
Add 1 cup each of tequila and grand marnier, then pour the mixture over the fruit and let rest 15 minutes.
Bleed dry the fruit, preserving the liquid.
Cut half the butter into half inch pieces and mix with the fruit.
Stuff cavity of the turkey with the fruit.
Place the turkey in a roasting bag, arrange remaining fruit on top of the bird and pour preserved orange juice-liquor mix over it.
Mix remaining tequila and grand marnier.
Have ready a basting syringe fitted with a metal injection nozzle and inject the mixture all over the turkey.
Fry remaining butter and carefully pour over the turkey in the roasting bag.
Close bag and cut 1/4 inch slit on the top to let steam escape.
Place a roasting pan and roast for about two and half hours.
Every 30 minutes open bag, being careful to protect your face from steam and inject more liquor, eventually using it up.
When ready open the bag, put the turkey on a platter and scoop out the fruit stuffing.
Strain the juices that have accumulated in the bag, skim off any fat, and carve.
Drunken Turkey is ready.