Carrot Cake
| | |
| --- | --- |
| Recipe Type: | Non Veg. |
| Calories Per Serving: | 260 |
| Difficulty: | Easy |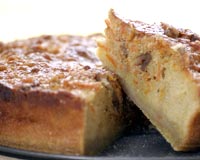 Ingredients:
3 cups Grated Carrot
2 tsp Ground Cinnamon
1-1/2 cup Flour
1-1/2 tsp Baking Soda
1 cup Chopped Walnuts
3 Beaten Eggs.
1/2 tsp Salt
1 tsp Nutmeg
1-1/2 Cup Sugar
1cup Canola Oil
Cooking Instructions:
Sieve the flour and mix it with baking soda, nutmeg, cinnamon and salt together.
Blend grated carrots, sugar, oil, some walnuts and eggs.
Mix dry ingredients into the above mixture.
Pour it into a pan.
Cook the mixture at 350 degree F for about 10 minutes.
Add food color to the cake if needed.
Garnish with remaining walnuts and serve.