Coq Au Vin
| | |
| --- | --- |
| Recipe Type: | Non Veg. |
| Difficulty: | Average |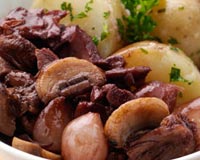 Ingredients:
8 Joints free range chicken, on the bone and skin removed
5 Cloves of garlic, crushed
25 gm Butter
500 ml Red wine
150 gm shallots, peeled but left whole
150 gm Streaky bacon, cut thickly
350 gm Button mushrooms
Sprig of fresh thyme
2 tbsp Balsamic vinegar
500 ml Chicken stock
Small bunch flat leaf parsley, chopped
Salt and crushed black pepper to taste
Cooking Instructions:
Heat a thick-bottomed casserole dish on the stove and add almost all the butter, shallots and garlic to it.
Cook gently till just browned and combine the bacon and thyme with it and cook for about 2-3 minutes.
Add the mushrooms, turn up the flame and add the red wine, chicken stock and vinegar to it.
Combine the chicken pieces with it and bring the sauce to the boil.
Now simmer gently for about 25 minutes till the chicken is cooked through.
Add the parsley, salt, peeper, together with a knob of butter.