Pissaladiere
| | |
| --- | --- |
| Recipe Type: | Non Veg. |
| Difficulty: | Average |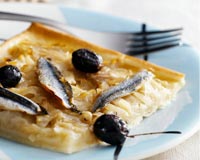 Ingredients:
For Pastry:
3 Cup plain flour
180 gm Butter cut in cubes
1/2 Lemon, juice of
1 Pinch salt
6 tbsp Water

For Filling:
90 gm Canned anchovy fillets
1 Kg onions, thinly sliced
3/4 Cup pitted black olives
1/4 Cup olive oil
3 Ripe tomatoes, peeled and sliced
1/4 tsp Salt
Pepper to taste
Cooking Instructions:
To prepare the pastry, Sift the flour and salt into small bowl and massage in butter till the mixture resembles breadcrumbs.
Add water and lemon juice to the flour mixture to form the dough.
Turn on to a floured surface and knead lightly till soft.
Wrap dough in the plastic wrap and chill for about 1 hour.
Preheat the oven to 425 degrees F.
Heat the oil in a big pan and cook onions gently without browning till they are almost a puree for about 40 minutes.
Add salt and pepper to it.
Roll out the pastry on a floured surface and make a big circle to line a slightly greased 30 cm pizza tray.
Prick all over with a fork and bake in a preheated oven for about 10 minutes.
Remove it from the oven and cover the pastry with the onions, pressing them down a bit.
Now cover up the onions with the tomatoes, overlapping them.
Drain the anchovies, reserving the oil, and cut each fillet in half lengthways.
Create a lattice pattern of anchovy strips over the filling and decorate the holes in the lattice with halved black olives.
Sprinkle tart with reserved anchovy oil and grind as much pepper over the top as desired.
Reduce the oven to 375 degrees F and bake Pissaladiera about 15 minutes or till pastry is crisp and golden.