Pot Au Feu
| | |
| --- | --- |
| Recipe Type: | Non Veg. |
| Difficulty: | Average |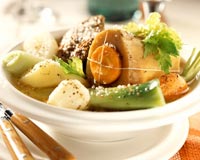 Ingredients:
4 lb Pork
4 lb Chicken
4 lb Beef
3 Cans of beef stock and water
Vegetable stock:
3 carrots, 3 onions, 2 celery stalks
Herb bouquet with parsley sprigs, thyme, bay leaf, garlic cloves, peppercorns
For Vegetable Garnish:
2 Onions
6 Turnips
10 Carrots
6 Leeks
Salt to taste
Cooking Instructions:
Pierce the onions of the vegetable stock with cloves and place the beef in a kettle with the vegetable stock and the herb bouquet.
Cover it with beef stock and water and cook on moderate heat, bring it to the simmer and skim.
Cover 2/3 of the kettle and simmer gradually for about 1 hour.
Add the pork and chicken to it and bring back to the simmer and skim.
Simmer for about 1 hour and a half on moderate heat.
Peel and cut onions, carrots and turnips and trim leeks for garnishing.
Add this to the chicken mixture and bring back to the simmer again.
Add salt to it and simmer over moderate heat for about 2 hours more.