Pan Bagnat
| | |
| --- | --- |
| Recipe Type: | Non Veg. |
| Difficulty: | Average |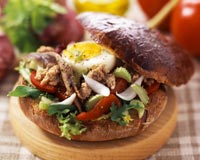 Ingredients:
1 Loaf french bread, unsliced, about 14 inches long
2 Cans tuna in olive oil, undrained
2 Plum tomatoes, diced
1/4 Cup extra-virgin olive oil
1/3 Cup basil leaves
1/2 Cup vidalia onions, chopped
2 tbsp Fresh lemon juice
2/3 Cup oil-cured olives, coarsely chopped
Salt and pepper to taste
Cooking Instructions:
Cut bread in half lengthways and scoop out the inside, leaving a 3/4 inch shell of bread and crust.
Brush interior of the bread with olive oil and line with basil leaves in the single layer.
Place undrained tuna, tomatoes, olives, onion, and lemon juice in a bowl to blend.
Add salt and pepper to it.
Now spoon the salad into the bottom bread shell.
Cover with top half and wrap in the plastic.
Put between two plates, add weights to the top, e.g. cans and let stand for about 20 minutes.
Unwrap, slice, and serve Pahn Bahn-YAH.