Saag Paneer
| | |
| --- | --- |
| Recipe Type: | Veg. |
| Difficulty: | Easy |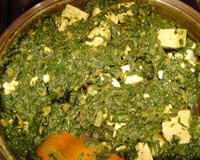 Ingredients:
1 lb Frozen spinach, thawed
6 oz Cheese
1 Large onion
1 oz Fresh ginger
1 Cup plain yogurt
6 Cloves garlic
4 oz Buttermilk
2 tsp Garam masala
1 Cup half and half
2 tsp Red chili powder
Salt to taste
Cooking Instructions:
Grind the onion, garlic, and ginger to make a fine paste.
In a medium saucepan, combine the paste, spinach, yogurt, buttermilk, chili powder, and garam masala, mix well.
Simmer at medium flame for about 20 to 30 minutes.
Mash all the ingredients properly with a potato masher.
Add the half and half and simmer till the mixture has a creamy consistency for about 10 to 15 minutes.
Add cheese and salt to saag panir and simmer for about 5 minutes.