Caesar Salad
| | |
| --- | --- |
| Recipe Type: | Non Veg. |
| Difficulty: | Average |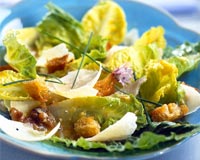 Ingredients:
3 oz Portuguese roll or a 7-inch piece of baguette, cut into 3/4 inch cubes
8 Anchovy fillets packed in oil, drained
1 Garlic clove, halved lengthwise
3 Hearts of romaine, leaves separated but left whole
1 oz Parmigiano reggiano cheese, finely grated
1 Egg
1 Cup extra-virgin olive oil or as needed
2 tbsp Fresh lemon juice
Salt and Peeper to taste
Cooking Instructions:
Season the salad bowl by rubbing a cut half of garlic and 1 tsp oil onto the bottom and side of the bowl, reserve the garlic.
Heat the oil with both halves of the reserved garlic on moderately high flame, turning garlic till golden for about 1 to 2 minutes and then discard the garlic.
Add bread cubes and fry, turning occasionally, till golden on all sides for about 2 minutes.
Place the croutons to the paper towels to drain.
Pour oil through a small fine-mesh sieve into the heatproof measuring cup and add sufficient additional olive oil to total 6 tbsp.
Place the anchovies in the salad bowl and mash it to make a fine paste.
Whisk in egg and lemon juice, then add reserved oil, warm or at room temperature in a slow stream, whisking till emulsified and combine salt with it.
Combine romaine leaves with the dressing and toss to coat.
Add croutons to it and toss for a moment.
Sprinkle the salad with cheese and pepper.