Chicken Caesar Salad
| | |
| --- | --- |
| Recipe Type: | Non Veg. |
| Difficulty: | Easy |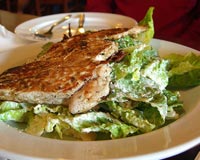 Ingredients:
4 Chicken breast halves, skinless, boneless
1/2 Cup creamy Caesar-style salad dressing
1/2 Head lettuce, torn into small pieces
1 Large tomato, cut into wedges
1/2 Cup mesquite-lime marinade
1 Green bell pepper, seeded and thinly sliced
2 tbsp Parmesan cheese, grated
1/2 Sweet onion, sliced
1 Cup cheese and garlic croutons
Salt to taste
Cooking Instructions:
In a baking pan, place the chicken and pour mesquite-lime marinade over all.
Cover and put it into the refrigerator to marinate for about 1/2 hour before grilling.
Now preheat the charcoal or gas grill to the medium high heat.
Grill the chicken breasts for about 15 minutes on each side till the meat is cooked through and is no longer pink inside.
Remove it from the flame and slice it into strips, when cool.
In a big bowl, toss together the lettuce, chicken, onion, pepper, salt, tomato, cheese, dressing and croutons, till evenly coated.