Chicken Cacciatore
| | |
| --- | --- |
| Recipe Type: | Non Veg. |
| Difficulty: | Easy |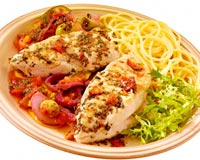 Ingredients:
4 Boneless chicken breasts, split in half flour
1 Medium onion, diced
1/4 Pound mushrooms, sliced
1-1/2 tsp Garlic, minced
2 Cups tomatoes, diced
1 Bay leaf
1/2 tsp Rosemary
1/4 Cup white wine
1/4 Cup chicken broth
1/2 Cup sliced black olives
Olive oil as needed
Cooking Instructions:
Heat the 2 tbsp of olive oil in a saucepan.
Add the onion, mushrooms, and garlic.
Cook until just soft.
Put tomatoes, bay leaf, rosemary, wine, olives, and broth.
Simmer for 30 minutes.
Heat some olive oil in a heavy skillet.
Dredge the chicken in flour.
Add chicken to skillet and cook until chicken is done.
Place chicken in a large casserole dish.
Cover with the sauce and bake uncovered at 350 degrees C for 25 minutes, or until it bubbles.
Cacciatore Chicken is ready.