Chicken Cordon Bleu
| | |
| --- | --- |
| Recipe Type: | Non Veg. |
| Difficulty: | Average |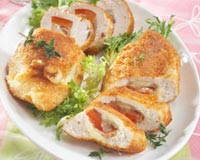 Ingredients:
4 Skinless, boneless chicken breast halves
1/4 tsp Salt
1/8 tsp Ground black pepper
6 Slices swiss cheese
4 Slices cooked ham
1/2 Cup seasoned bread crumbs
Cooking Instructions:
Preheat oven to 350 degrees F.
Coat a 7x11 inch baking dish with nonstick cooking spray.
Pound chicken breasts to 1/4 inch thickness.
Sprinkle each piece of chicken on both sides with salt and pepper.
Place 1 cheese slice and 1 ham slice on top of each breast.
Roll up each breast, and secure with a toothpick.
Place in baking dish, and sprinkle chicken evenly with bread crumbs.
Bake for 30 to 35 minutes, or until chicken is no longer pink.
Remove from oven, and place 1/2 cheese slice on top of each breast.
Return to oven for 3 to 5 minutes
Cordon Bleu Chicken is ready.